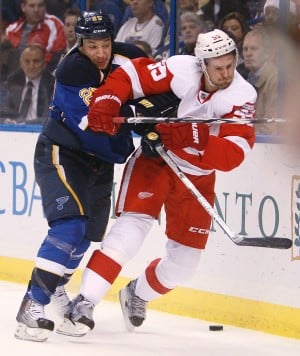 The NHL is stepping it up when it comes to player safety, especially with Senior Vice-President of Player Safety and
Hockey operations, Brendan Shanahan on the case.  After calling a hearing for the Lucic hit, another hearing regarding player safety is being called for St. Louis Blues' forward Chris Stewart.
During the first period of the Blues/Red Wings game last evening, Stewart checked Detroit Red Wings Niklas Kronwall from behind. Due to this offense, Stewart was handed a five minute major penalty for this nasty check and was even slapped with a game misconduct.  Despite  Stewart's absence, The Blues overpowered The Red Wings to win the game 2-1, but unfortunately this win came with a price as Stewart had to sit out the rest of the game.
Kronwall was also taken out of the game for a bit, as a safety precaution to make sure that the hit didn't damage him too much. He stated that he felt he was fine, but The Red Wings medical staff wanted to test his injury out to make sure this hit would not lead to a bad concussion. Kronwall stayed out of the game for the rest of the first period, but he did come back to the ice for the rest of the game when the second period began.
While everyone is thankful that Kronwall is taking his injury well, this hit by Stewart might constitute a game suspension. These kinds of hits are what has been debated constantly in the past couple seasons and was most likely discussed during the GM meeting that the NHL held yesterday. So far there is no word on whether or not Shanahan has reviewed the play and made a decision, but he has called for a hearing with Stewart to talk about this reckless hit from behind.
While losing Stewart to a suspension is cause for worry, The Blues are confident that their team overall will be okay without him. They were able to kill off  Stewart's five minute penalty in last night's game with out him, and even won against The Red Wing while Stewart was ejected from the game.